I envision a world where all beings are treated with dignity, kindness, love, & respect. A world where love rules. Where we work together in cooperation, not domination.  We are all meant to live a life on purpose, to fulfill a unique destiny.

Connecting Body and Mind
What would happen if your actions, thoughts, words and deeds all lined up?  The possibilities are endless……
I love helping people learn to listen to the one person who's had the answers all along, themselves!
Age 4: opted out of preschool

Early Adulting: Opted into studying & teaching Yoga

Later Adulting: Opted into studying & teaching Somatic Education for horses and humans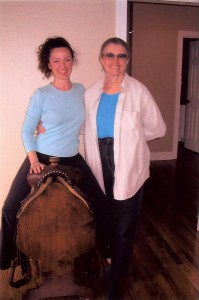 The universe opted into seeing that I put them all together…..
Funny Fact: I found out that my last name, "Hester" is the Norwegian word for Horses.  Some say that I was born to do this work.  And I believe them.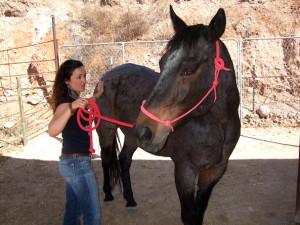 The Buzz about Gloria Hester:
"Gloria Hester is a Somatic Coach and Educator for humans and other vertebrate species. She is the founder of Yogic Wisdom for Horse and Human, an educational program that includes somatic healing retreats and workshops with horse and human participants. Gloria is a Certified Yoga Therapist, and Certified Hanna Somatic Educator for humans and equines, and runs a private practice as a Somatic Coach and Educator for humans, horses, canines, and other animals.
As a Body Ecologist certified by Donna Gates, Gloria infuses retreats, workshops and trainings with lectures on the subject of nutrition, food-based healing, and how food affects the nervous system. She reflects the new edge of integrating principles of trans-species psychology with innovative and traditional approaches to healing non-human animals. Critically, she engages psyche (mind) and soma (body), which in contrast to conventional behavioral training, gives animals voice and respect in support of their well-being and self-determination".
 – Janet Kaylo "Being Animal"

Many of my students are avid yoga teachers, horse enthusiasts, somatic educators, massage therapists, acupuncturists, health coaches, natural horsemen/horsewomen/forward thinking trainers. (These specialized trainings are recognized as continuing education with Yoga Alliance).

 About Yogic Wisdom for Horse & Human ~ An Overall Wellness Program for You & Your Horse
Old meets new
Ancient Techniques combined with Neuroscience for horses???  Yes!!!
Horses are much smarter than we give them credit for!
* This is a hands-on educational method of assisting both you & your horse in recognizing any forgotten patterns of movement that were previously accessible, but have been lost due to stress or injury.
*A horse that is no longer in "fight or flight" has a stronger immune system and can go into "rest and digest" mode.
*Think younger, more graceful, more easeful, more fluid.
*Think freedom, flexibility, and better motor plans, meaning you and your horse are more agile!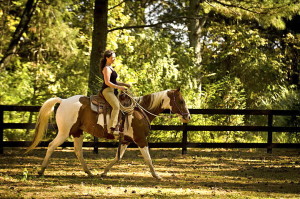 *We are literally re-educating your horse's nervous system.
*The bones can only go where the muscles put them and the muscles do not work of their own accord. It is the nervous system that controls the muscles.
*Horses as well as humans, over time, develop chronically contracted muscles (what Thomas Hanna coined as"sensory motor amnesia, or 'SMA' for short").
*SMA is an adaptive process to common stressors such as flight, fright, pain, compensations for injuries and repetetive use.
*This results in unconscious patterns of holding in the musculature.  We are asking the horse to sense this unconscious holding pattern and release it.
*A very effective way to work with your horse.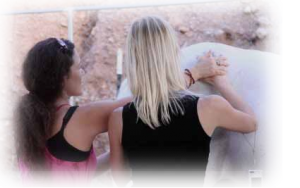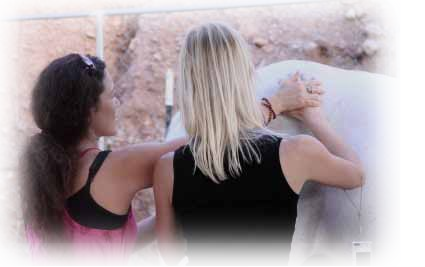 *Some of the benefits are a more confident, athletic, happy horse, resulting in a closer connection between the two of you.
*Offering pain relief from common conditions associated with aging, arthritis, and athletic performance.
*The work is very subtle and requires mindfulness.
*It continues to be my great privilege to bring this work to both horse and human.

About Teacher Training:
I Love Training Yoga Teachers to work therapeutically!  Hands down!  More laughs and love than ever!
Training Yoga Teachers since 2007

Gloria Hester's "Restoring the Wisdom of the Body" Yoga Teacher Training Program emphasizes educating Yoga teachers in these key areas that most trainings never address :
Educating trainees in recognizing commonly held adaptive/reflexive patterns in the body & how these apply to asana.

Educating trainees to design classes that address & release those commonly held patterns.

Educating trainees in the use of yogic tools that restore balance to the autonomic nervous system.

Recognizes that each student is unique in his or her body and experiences.  This warrants a practice focused on addressing his/her individuality.

Educating trainees in the application of therapeutic alignment vinyasa with hands on assists to soothe as well as transform.

Educating trainees in recognizing proper alignment & how to enable the students own nervous system to recognize it.

Educating trainees in the application of restorative yoga.

Educating trainees in the four traditional sun salutations & how to modify & apply those to an individuals needs.

Educating trainees in the use of props to restore body awareness & alignment.  (The re-education/remembering/re-awakening of the body).

Educating trainees in the benefits of the postures & their sequencing.  (Includes suggested sequences.)

Educating students in the use of the tools & techniques of meditation, (mudra and mantra).

Educating trainees in the application of pranayama.

Educating trainees in understanding the energies that pervade all things.  (The gunas) and their application to yoga.

Educating students in the design & application of Yoga Nidra.

Educating trainees in applying traditional yogic tools of self care & body care.
This training is non-dogmatic and honors all traditions of yoga and all modalities of bodywork. To apply, email info@gloriahester.com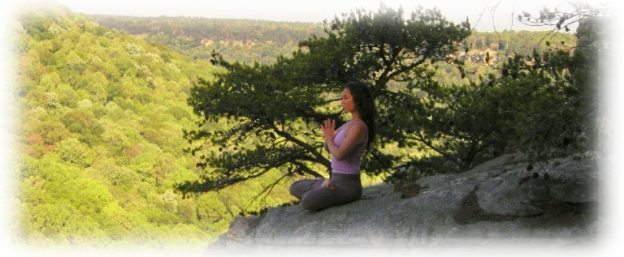 The Beginnings of my Yoga Studies
What happens when you take the plunge?
That's what the beginning of my Yoga studies felt like.
I had a broken foot, and torn discs in my low back. I was in a lot of pain and had been told by Dr's not to even bend over or to reach above my head. I was pretty much bed ridden. And I was so young!
Basically I had been told not to move. I didn't see not being able to get a glass out of the cabinet or to put my own socks on as much of a future for myself. The doctors I was seeing offered no hope, only more tests.
I had heard somewhere that Yoga was "good for low back pain."
That was twenty years ago. There were no nearby studios, so I hobbled into a Suncoast video store and bought Alan Fingers video called "Stress Release and Conditioning."
I took the video home and watched it, thinking, "Oh boy, I can't do any of this." But I really wanted to help myself, and looking back, I think that was key. So I did what I could of the video, and about halfway through, as I was standing in the middle of my living room in a wide standing forward fold, I realized that I was bending over and wasn't in any pain. It was then that I knew that something special was happening, that I had found my way home.
I began to practice every day and experienced that first savasana, that savasana that really gets most people hooked on yoga. I had never experienced that depth of connection before in my life.
I had been taught growing up to have faith in God, but I had never felt safe in my physical body, until I started to practice yoga. Over the years, my fear of heights went away, and my fear of driving long distances alone melted away.
I loved everything about Yoga. The first book I got on Yoga was Bikram's old red cover edition. Those first few books really shaped me, and whenever I met a runner with tight hips, or a knee injury, I would show them things they could do to release the muscles and ease the pain.
Friends around me would laugh, and say, "Why don't you teach?" Of course, I thought, "Well, there are all kinds of postures that I can't do, and I have to be able to do them all if I teach." But they assured me that that was not the case, and kept insisting that I should teach.   The idea of it really intrigued and excited me, but I was so used to being afraid, and nervous.
It took every ounce of courage I had in me to travel and study with teachers, but with pounding heart, I did it.
I literally took a stuffed teddy bear (for moral support) with me in my backpack to that first training.
After I started studying to teach, a friend who was a neuromuscular therapist invited me to teach at his place when I was ready. And that was where I held my first class. I was so scared, scared of not getting it right, scared of looking silly. Sharing funny shapes to make with your body, mantra, and mudra, things that at that time were so foreign to most people.
I went on to study so many more disciplines of Yoga, dance arts, somatic healing arts, one that was most notable for me, were somatic studies, which led me back to formally working with horses, combining all that I love most in this world into one epic adventure…
So, that's what happens when you take the plunge, or at least it's what happened when I did…
You fall in love with the divine, what I call "The Big Love."
Twenty years later, with thousands of road miles, countless air miles, and more than a few friends across the globe, I am still at this game of love.
That's what it is for me, a game of love.
I feel like there's a lot more to share on the other side, so for now, I'll just say, "to be continued…"