All Retreat Details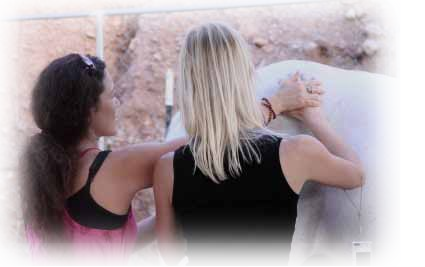 Please make a note of the new retreat dates:
October 5th – 9th, 2017
This is About You And Your Horses! I'm delighted to invite you to this retreat.
Come learn with the horses on the property and take what you learn back out into the world to share with those around you.
You'll gain the following in this Exclusive 5 Day Healing Retreat in Historic Aiken, S.C., (the land where Secretariat played):
*A new level of awareness, and embodiment in the world of neuroscience, resulting in the following for both you and your horses:
Release of Accumulated Stress, Improved Posture, Flexibility, and Self-Confidence
Better Coordination & Trust
Facilitates Healing on a Deep Level
*Results in Greater Awareness and Consciousness throughout Your Body (New Neuronal Connections are Formed) Creating Lightness, Ease, and Elegance of Being
Improved Compassion, Empathy, Sensing, and Connection
Relieves Pain and Stiffness associated with Chronic Injury and Arthritis (Relief from Chronic Tension and Stress that has accumulated in the Nervous System)
*Heaven on Earth with Horses: Connect With Horses in Ways You Never Knew Were Possible
Each Day, Participate in Bringing Well-Being and Ease by Re-Educating Horses with my Guidance
Be of Benefit and Service to Other Sentient Beings
Experience a Level of Relaxation and Ease that becomes Your New Normal, AND Share this with your Horses when you return home!

As a Special Bonus, Receive Mentorship and Guidance to Maintain and Deepen that New Normal for 12 months as it applies to your life and Your Horses (we will meet once a month for a live group webinar class).
An Experience that Gives You a Lifetime of Benefits!
To learn more, or to apply to attend this Exclusive Retreat and Year-long Mentorship program, email info@gloriahester.com to schedule a complimentary call.
Experience a way where horses are cared for and seen in a completely revolutionary way.
At the Aiken, SC retreat there will be horses on the property we will be working with. So for this retreat, participants will come with an open heart and open mind, but not your personal horses. (You do not have to have horse experience to be part of this program). This is a somatic experience. The entire retreat is designed to connect you deeply with your inner guidance and inner knowing through movement and awareness.

We will have Fresh, Healthy, Organic Meals, prepared especially for our group, along with Beautiful Lodging Accommodations at an Historic Aiken Equine Estate are all Included!
 Thank you for reading this. I look forward to hearing from you! I appreciate your love and support very much!
Together, we can make a difference!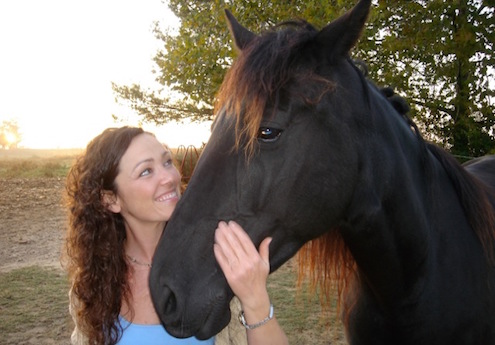 Sample Retreat Schedule:
7:45 Breakfast
9:00 – 10:00 movement practice
10:00 – 12:00 Time with Horses
12:30 – 2:00 Lunch
2:00 – 4:00 free time on the grounds, swimming, exploring, journaling, optional massage.
4:00 – 6:00 Time with Horses, movement practice
6:00 – 7:00 Talk on the uniqueness of your soul's mission and your life's vision
7:00 – Dinner
Sample Day:
7:45 – 8:45 Breakfast
9:00 – 10:00 movement practice
10:00 – 12:00 Time with horses
12:00 – 12:30 – Group share
12:30 – 2:00 – Lunch
2:00 – 4:00 Free time to explore, journal, swim, hike, optional massage
4:00 – 6:00 – movement practice, partnering, creative arts meditation, praying in color
7:00 – Dinner
*retreat schedule may vary according to group needs.

If this is the heartfelt change you've been looking for, the retreat that you hoped existed, the retreat that Restores the Wisdom of the Body for Both Horse and Human, with continued support for 12 months, then connect with me today and we will get you registered to be a part of the Aiken journey!
email info@gloriahester.com today to schedule a complimentary call.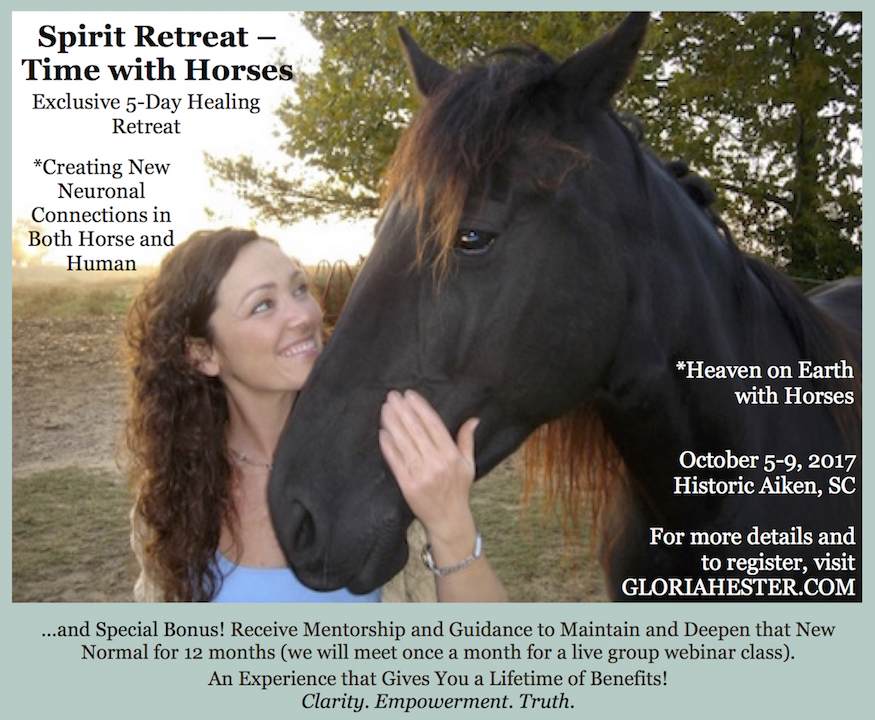 Share this image with your friends! Right click (PC) or Control-Click (Mac) and save to your computer, then enjoy sharing via messenger, email, and social media.